Barefoot Buttons V1 Skirtless Big Bore Silver
FRI FRAKT

ÖVER 1000 SEK*
SNABB SERVICE

Vi skickar samma dag om ordern är lagd innan kl 12:00 CET
14 DAGAR FULL RETURRÄTT

Byt eller pengarna tillbaka
The Skirtless button comes in both V1 and V2 models. It is identical to a standard V1 or V2 button except that the bottom of the button has been shaved flat to solve clearance issues on pedals that have low mounted switches or led lights that interfere with a standard button depressing. Version 1 Big Bore fits larger 3PDT switches (up to 7/16 of an inch / 11.1mm).
Barefoot Buttons make it easy to operate your pedals without shoes, and make them look great too.
New design fits most true bypass stomp switches.
3 stainless steel set screws, comes with allen wrench.
CNC machined from clear acrylic.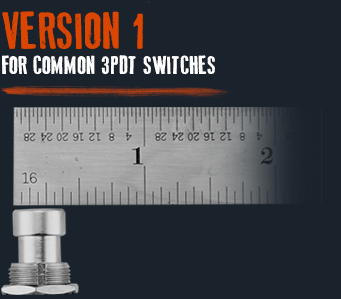 From the Barefoot Buttons:
"Being a guitar player who likes to play barefoot, I had been battling the common 3/8″ chrome on/off switches on effects pedals for years. The existing switches take quite a bit of force to activate (ouch!) and are small enough to slide between your toes. Things that can make you miss triggering your pedal. Being a machinist, I was able to R & D this invention with professional musicians for years down to this final design. Along the way we learned a lot. Most of all we learned that everybody loved the look and feel of the buttons and wanted to have them on their pedalboards. So from a simple idea to solve a small problem, Barefoot Buttons was born."
FAQ
Will a version 1 button work on a version 2 switch?
Yes it will, but we do not recommend it. It is not an optimal fit and the button may not perform reliably.
What is the diameter of a Barefoot Button?
All version 1 and version 2 models, including the Tallboy, have a diameter of about 1 1/8" (28.5mm).
How tall is the Tallboy?
The Tallboy is about 7/8"(22.2mm) tall. It will raise the switch height about 1/2"(12.7mm)
Läs mer